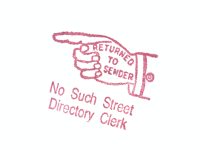 Unable To Deliver By Email
From: Carl Malamud <carl@media.org>
Message-ID: <200702011930.l11JUENT014455@bulk.resource.org>
Subject: FOIA Request
To: jhuerta@ogc.si.edu
Date: Thu, 1 Feb 2007 11:30:14 -0800 (PST)
cc: carl@media.org
X-Mailer: ELM [version 2.4ME+ PL94 (25)]
MIME-Version: 1.0
Content-Transfer-Encoding: 7bit
Content-Type: text/plain; charset=US-ASCII
Status: OR
John Huerta (jhuerta@ogc.si.edu)
General Counsel of the Smithsonian Institution
Smithsonian Institution, MRC 012
1000 Jefferson Drive, SW, #302
Washington, D.C. 20013
Dear Mr. Huerta:
I am writing to you today for two purposes:
To request a clarification of the Smithsonian Institution's FOIA policy.
To place a FOIA request.
On April 4, 2006, I placed a FOIA request for information regarding the contract between the Smithsonian and Showtime. You may view a copy of that request on the Web here:
http://www.americanprogress.org/kf/SUNSHINE_FOIA.PDF
On April 26, 2006, I received a reply from Ms. Annette Fancher in your office. That reply may be viewed here:
https://public.resource.org/smithsonian.foia.response.pdf
In her reply, Ms. Fancher stated "we will contact you again when we have further information." I took that as an acknowledgment that I would be receiving a formal response to the request, either a copy of the documents I was asking for or a citation of a specific exemption as allowed by the Act. However, I have not received any such reply.
My request for clarification thus asks for the Smithsonian Institution policy on responding to FOIA requests.
My second aim in writing to you today is to place a formal request under the FOIA for 4 pieces of information:
As per my April 4, 2006 request, I would like to reiterate my request for a copy of the contract with Showtime in regards to the formation of Smithsonian on Demand.
I am additionally requesting a copy of the contract with Corbis which was recently announced by the Smithsonian. If you are unwilling to release the entire contract, I would request a redacted version of the contract.
In a previous communication with your office and the Office of the Inspector General, I requested a copy of the Accountant's Report which was prepared under the supervision of the Office of the Inspector General in regards to Executive Compensation of the Secretary. You may view that request here:

https://public.resource.org/smithsonian_ig.html


On May 10, 2006, I requested in a letter to the Chairman of the Board of Regents and the Secretary that minutes of the meetings of the Board of Regents be disclosed. I have not received a reply to that request and am thus hereby requesting that material of you under the procedures in FOIA. You may read my former request to the Chairman of the Board of Regents here:

http://www.americanprogress.org/kf/letter.chief.justice.pdf
I am willing to pay fees for this request up to a maximum of $200. In order to help to determine my status for purposes of determining the applicability of any fees, you should know that this request is not for commercial use.
Disclosure of the requested information is in the public interest because it is likely to contribute significantly to public understanding of the operations of government and is not in any way in my commercial interest. Any documents you furnish shall be disseminated for the public benefit at no charge on the Web.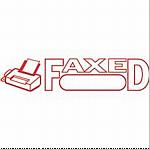 As stated in my request for clarification above, if you feel that these matters are not subject to the provisions of Smithsonian Directive 600 in regards to the "intent and spirit" of the FOIA, I would appreciate you making that policy explicit.
Sincerely yours,
Carl Malamud
PO Box 1065
Ferndale, CA 95536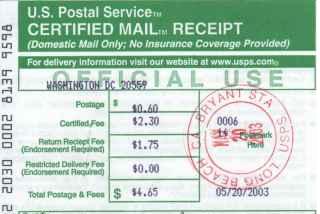 Tracking Number: 7004 2890 0000 6310 5517