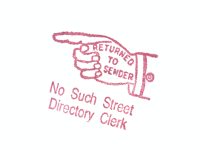 Unable To Deliver By Email
From: Carl Malamud <carl@media.org>
Message-ID: <200702011733.l11HXB6Y008468@bulk.resource.org>
Subject: Disclosure of Accountant's Report on Compensation
To: sryan@oig.si.edu
Date: Thu, 1 Feb 2007 09:33:11 -0800 (PST)
cc: jhuerta@ogc.si.edu, carl@media.org
X-Mailer: ELM [version 2.4ME+ PL94 (25)]
MIME-Version: 1.0
Content-Transfer-Encoding: 7bit
Content-Type: text/plain; charset=US-ASCII
Status: O
A. Spritely Ryan, Acting Inspector General
Office of the Inspector General
Smithsonian Institution
MRC 1204, PO Box 37012
Washington, D.C. 20013-0712
Dear Ms. Ryan:
I am writing in reference to the recently issued Report Number A-06-06, Executive Compensation at the Smithsonian, January 19, 2007. Footnote 3 of the report said:
"This report does not cover the compensation of the Secretary, except in passing. At the request of the Secretary and the Board of Regents, an independent accountant (under the supervision of the Office of the Inspector General) conducted an agreed-upon procedures review of his compensation and expenses."
I am writing to request that a copy of this report be furnished to me or released on the Inspector General's Web site for public examination.
As you know, Smithsonian Directive 600 states:
"The Smithsonian Institution is not subject to the Freedom of Information Act (FOIA), which governs access by the public to federal agency records. The Smithsonian follows the intent and spirit of the law as a matter of policy. All requests citing FOIA must be referred to the Office of General Counsel."
I am addressing this letter directly to you with a cc: to the Office of the General Counsel because the Office of the Inspector General reports directly to the Regents. An answer to this request from either you or the Office of the General Counsel as a FOIA matter would be appreciated.
Even if you believe the FOIA does not apply, I would appreciate your direct answer to my request as I believe it is a matter of compelling public interest and concern among the general public and integral to an understanding of your report.
As you know, your report discussed at length the question of classification of employees as Federal Employees or as Trust Employees. If the Secretary is a Federal Employee, it goes without saying that the Accountant's Report would be released as full disclosure of compensation is a fact of life for employees of the Federal Government.
If the Secretary is a Trust Employee, I ask that you keep in mind President Bush's call in his State of the Economy address yesterday:
"A free and vibrant economy depends on public trust. Shareholders should know what executive compensation packages look like."
As a shareholder of the Smithsonian Insitution, I hope you will make the Accountant's Report available for public examination.
Sincerely yours,
Carl Malamud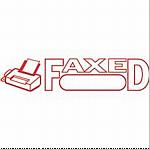 PO Box 1065
Ferndale, CA 95536
carl@media.org
cc:
John Huerta (jhuerta@ogc.si.edu)
General Counsel of the Smithsonian Institution
Smithsonian Institution, MRC 012
1000 Jefferson Drive, SW, #302
Washington, D.C. 20013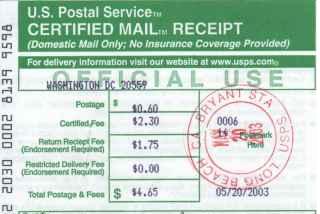 Tracking Number: 7004 2890 0000 6310 5531